This rare early Singer has serial number 5104, owner thinks it was made in 1876: the 1877 models had slightly different rims.
When you look at the pictures (click picture, it is a link to Flickr fotostream of Michael Grützner) you see:
- long spring pointing forward, as usual on these early models
- Singer open head
- locknut spokes
- plain bearings, in a style very similar to the early boneshakers.
- front wheel brake. It wasn't for sale until 1879, so it must have replaced the Carter rear-wheel brake when front wheel brakes became popular after 1880. But it looks very original. So maybe a factory replacement?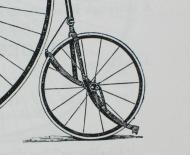 The rear wheel brake of the 'Carter model' has gone lost. You can see the second hole in the rear fork. This brake was lifted at the front when the rider twisted the handlebars. The rear end clung to the ground, like an anchor. At the time it was considered the safest brake system in production ... It was offered by Singer until 1880.
There is a possibility to attach footrests to the front fork. You can see the holes where they should be attached. Construction looks very much like
Coventry Machinists
, where Singer worked before starting his own firm. Saddle and grips are not original.
Click the picture for link. If the link doesn't work,
please send me an e-mail
.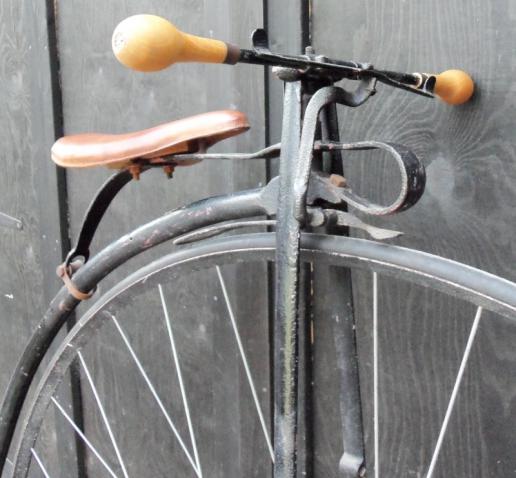 A very similar Singer is to be seen on pictures 13-22 of this series on the site of Robert Sterba :
LINK
.